This is the official (BCPS) Broward County school calendar for the 4th quarter of 2022 till the end of the 2023 school year. It has been approved by the School Board of Broward County and contains important dates such as the start and end of the school year, holidays, and other important dates for students and parents to be aware of. Please make sure to mark this calendar and plan accordingly.
BCPS revises school calendar due to time lost caused by Hurricanes Ian and Nicole. The changes were made to satisfy Florida's requirement for instructional hours.
When is the last day of school?
June 10th marks the end of the school year for students.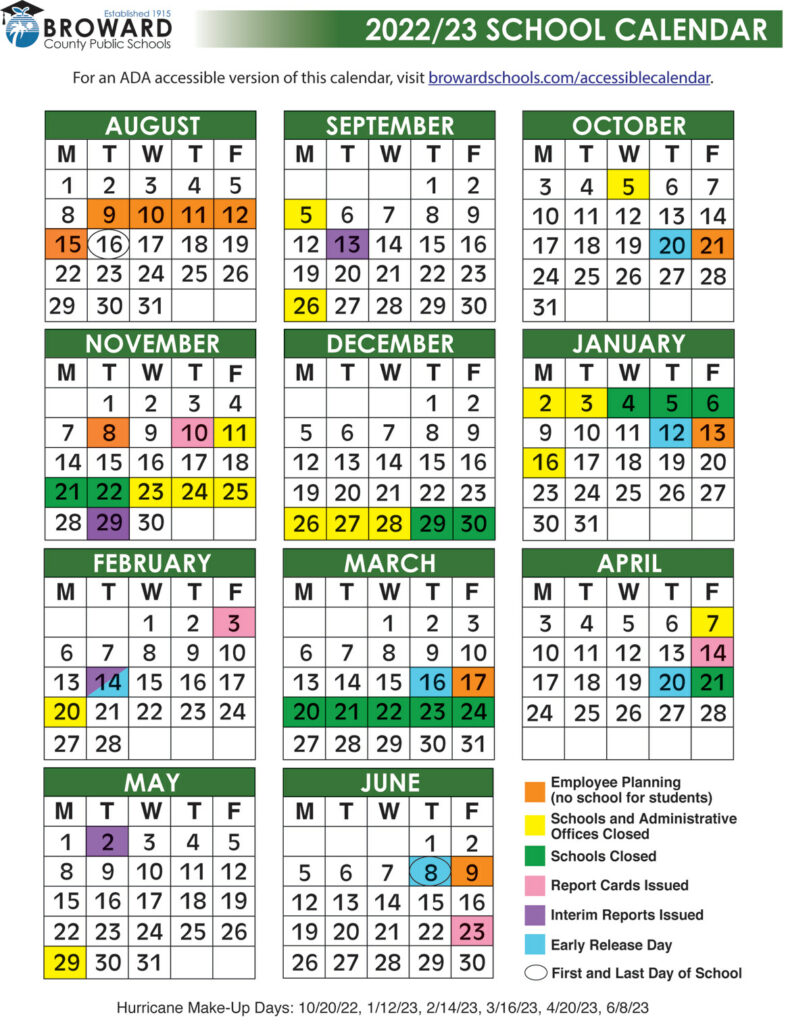 Broward County School Board Approves 2023/2024 School Calendar
Don't forget to mark your calendar! The 2023/24 school calendar for Broward County, Florida was approved at the December 13, 2022, School Board meeting. Classes will begin on August 21, 2023, and end on June 10, 2024.
As part of Broward County Public Schools ongoing efforts to provide safe and secure learning environments, beginning in the 2023/24 school year, ONLY CLEAR BACKPACKS AND BAGS WILL BE PERMITTED FOR STUDENTS IN ALL GRADES FROM PRE-K - 12.
The 2023/2024 School Calendar Highlights Include:
First Day for Teachers' Planning – Monday, August 14, 2023
First Day of School for Students – Monday, August 21, 2023
Thanksgiving Holiday – Monday, November 20 – Friday, November 24, 2023
Winter Break – Monday, December 25, 2023 – Friday, January 5, 2024
Spring Break – Monday, March 25 – Friday, March 29, 2024
Last Day of School for Students – Monday, June 10, 2024
Last Day of School for Teachers – Tuesday, June 11, 2024
Looking for the Broward Community Schools Calendar? Save or Print
Broward Community Schools is an entity of Broward County Public Schools but please note the calendar dates may vary.
BCPS Administration Center
600 S.E. Third Avenue
Fort Lauderdale, FL. 33301

Phone: 754-321-0000